Colonial District
Fall 1998 Camporee
Junior Leader Training Workshop
The Junior Leader Training Workshop brought together 22 Scouts from ten Colonial District troops. Under the supervision of seven experienced Scout staff members and three adult leaders, the workshop built on principles introduced in troop-run Junior Leader Training, especially:
Shared leadership
Planning
Communication
Evaluation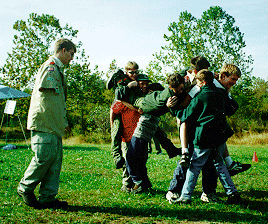 Scouts participating in the Junior Leader Training Workshop
honed their leadership skills by working together in patrols
to meet a set of challenges. In one challenge, seven patrol members
had to form a "creature" with only four points of contact
with the ground as they moved along a 25-foot path.