COLONIAL DISTRICT CRIER
Volume 1, Issue #7 ONLINE EDITION JANUARY 1999




COLONIAL DISTRICT LEADERSHIP

District Executive:
Paul Kosmicki (H) 703-370-2537


kosmicki@juno.com (W) 301-214-9122

District Commissioner:
Mike Porter (H) 703-425-8489
porter@iname.com (W) 703-751-3700

District Chairman:
Pete Straub (H) 703-370-5661
(W) 703-820-3600
(Fax) 703-820-8602

Deputy District Chair:
Tom Baerwald
baerwald-va@msn.com (H) 703-765-3128
tbaerwal@nsf.gov (W1) 703-306-1502
baerwaldt@oit.si.edu (W2) 202-633-9866


Vice Chair (Administration):
Helen Garamone (H) 703-360-5692
(W) 703-325-9762

Vice Chair (Finance)
Pat Tokarz (W) 703-379-8879

Vice Chair (Membership):
Jim Poole (H) 703-799-7046
Jim_Poole@nps.gov (W) 202-565-1174

Vice Chair (Program):
Mike Crane (H) 703-660-6148
Cranem@af.pentagon.mil (W) 703-695-2251

__________________________________________

SERVING YOU ELECTRONICALLY!

Colonial District now has a home on the Internet's World Wide Web. Each month we will post this newsletter to the web. Our web pages are at:

http://members.tripod.com/colonialdistrict/

We are have an e-mail list to distribute information faster. If you would like to be on the e-mail list, please send an e-mail to

list-requests@dynapolis.com without a subject line and only the words

"subscribe CDnetScouts Your Name"

in the body of the message (do not include the quotes). We will not add anyone to the e-mail list without their request.

ABOUT THIS NEWSLETTER

The Colonial District Crier is published monthly. Contributions must be submitted no later than 9 p.m. on the Friday preceding monthly roundtables to our editor, Mike Bowman. You may submit your articles in Word, Rich Text Format, or Text on floppy disk or via e-mail to

mfbowman@usscouts.org or you may deliver paper copies to 5832 Valley View Drive (Franconia).

MARK YOUR CALENDAR!

Click here to consult our online calendar for dates and events.

COMMISSIONER NOTES
The next Commissioner Meeting will be on Thursday, January 14 at 7:30 p.m. at First Christian Church of Alexandria, 2723 King St., northwest of the Masonic Memorial. If you are unable to attend the meeting, let your ADC know. Questions? Call Mike Porter (H) 425-8489 (W) 751-3700 or e-mail porter@iname.com or Sue Crane at 660-6148 or e-mail ACC77@aol.com.
Who Are the Assistant District Commissioners?
Area 1: Linda Hill 370-6641
Packs: 129, 133, 602, 609, 614, 615, 801, 1515
Troops: 62 113 120 129 131 135 609 1515 2000
Area 2: Jim Owens 317-7970
Packs: 867, 1076, 1520, 1943
Troops: 1076, 1107, 1150, 1507
Area 3: Ray Hahn 360-6960
Packs: 658, 680, 888, 1435, 1504, 1509, 1852
Troops: 654, 680, 811, 996, 1509, 1901
Area 4: Linda Guidotti 360-1171
Packs: 977, 1503, 1519, 1900
Troops: 118, 871, 876, 899, 993, 1519
Area 5: Gary Lindner 971-3087
Packs: 601, 1102, 1103
Troops/Venturing: 601, 1102, 1103, V 1103, V1183
Deputy District Commissioner: Sue Crane 660-6148
District Commissioner: Mike Porter 425-8489
DON'T MISS OUR WONDERFUL ROUNDTABLES
Following are dates for Colonial District
Roundtables during 1999:
| | |
| --- | --- |
| January 13 | No July roundtables |
| February 10 | August 11 |
| March 10 | September 8 |
| April 14 | October 13 |
| May 12 | November 10 |
| June 9 | December 8 |
| | |
---
DISTRICT COMMITTEE MEETINGS
Following are dates for Colonial District
Committee meetings during 1999:
| | |
| --- | --- |
| January 27 | July 28 |
| February 24 | August 25 |
| March 24 | September 22 |
| April 28 | October 27 |
| May 26 | November 17 |
| June 23 | December 15 |

District Award of Merit
Nominations for District Award of Merit are due to Coop Wright by January 31. The District Award of Merit is the only official BSA award that the Colonial District can award to its adult Scouters. While there are no specific requirements, the award recognizes outstanding service to youth within the District and is only presented for exceptional and dedicated service over a period of time.
If you know of someone who merits this award, you should submit his/her name, together with the information requested on the nomination form to the District Award of Merit Committee. (Nomination forms were passed out at last month's roundtable) Nominees will be evaluated on the following nine areas:
Evidence of Scout Spirit,
Positive impact on the district program,
Quality of service,
Level of responsibility,
Variety of service,
Training and tenure,
Support of District and Council policy,
Contributions to youth outside of Scouting, and
Receipt of the Key 6 Award (generally a Scouter will be expected to have received the Key 6 Award prior to receiving the Award of Merit).
Nomination forms can be obtained at Roundtables or by calling Cooper Wright, 971-0044 (home) or 358-2802 (work). All nominations should be mailed to Cooper Wright, 7720 Hayfield Road, Alexandria, VA 22315 and must be postmarked no later than January 31, 1999.
ABOUT THIS NEWSLETTER
The Colonial District Crier is published monthly. Contributions must be submitted no later than 9 p.m. on the Friday preceding monthly roundtables to our editor, Mike Bowman. You may submit your articles in Word, Rich Text Format, or Text on floppy disk or via e-mail to mfbowman@usscouts.org or you may deliver paper copies to 5832 Valley View Drive (Franconia).

THE DISTRICT COMMITTEE AT WORK FOR YOU

MEMBERSHIP NOTES - Jim Poole

703-799-7046 or e-mail:

jim_poole@nps.gov

GET READY FOR JOIN SCOUTING NIGHT 1999

District JSN Orientations will be held concurrent with RT on 7/14, 8/11 and 9/8/99.

Join Scouting Nights will be held during the week of September 13 - 17 and turn-in will be on 9/17 (7-9 pm) and 9/18 (9-12 am).

Jane Sanchez is the Vice Chair for Join Scouting Night and primary POC for all issues related to it. Her home telephone number is 360-9181.

Jim Poole

Chair, Membership Committee

Scouting Doesn

=t Just Happen

People Like You Make It Happen

THE DISTRICT COMMITTEE AT WORK FOR YOU
PROGRAM NOTES - Mike Crane
703-660-6148 or e-mail:
Mike.Crane@pentagon.af.mil
ACTIVITIES AND CIVIC SERVICE - Bill Stewart
703-642-8942 or e-mail ke4bae@crosslink.net
Joint Colonial-Old Dominion Pinewood Derby
Saturday, March 13, 1999 Landmark Mall; Alexandria Colonial Derby Director: Tony Moller
The Colonial and Old Dominion Districts will join forces to conduct a joint District Pinewood Derby on Saturday, March 13, at Landmark Mall in western Alexandria. The Joint District Pinewood Derby will provide an opportunity for Cub Scouts from more than five dozen packs to show and race wooden cars that they have designed and built.
Details regarding specific times and arrangements for the Joint Colonial and Old Dominion Pinewood Derby will be posted at our website as plans evolve:
http://members.tripod.com/colonialdistrict1/pwd99/
Colonial District 1999 Spring Camporee

Friday, April 11-Sunday, April 13, 1999 Prince William Forest Park; Triangle, Virginia Camporee Director: Destry Jarvis Program Directors: Dominick Caridi and Jim Poole.
Colonial District Boy Scouts and Venturing Scouts will help the Boy Scouts of America kick off a new emphasis on Leave No Trace outdoor skills and ethics at district's Spring 1999 camporee. This event will be held at Prince William Forest Park, which is located about a dozen miles southwest of the Occoquan River beside I-95.
There is a pre-camporee meeting scheduled for 1 pm on January 14 at PRWI. I know that some are not available. If you have changes in plans, please try to make this meeting to coordinate with the camporee leadership team. Jim Poole welcomes your questions and can be reached at 202-565-1174. Thanks for your participation in this LNT camporee. More information is available at our website:
http://members.tripod.com/colonialdistrict1/Cors99/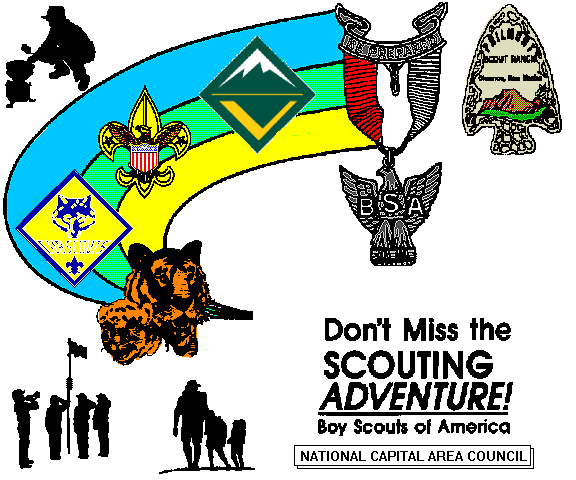 Cub Scout Spring Fling

A date and locale for this event have not yet been selected, and an organizing team has not been constituted. The Cub Spring Fling is envisioned as an afternoon event in May or early June that enables Cubs from different packs to come together and engage in a range of fun, exciting outdoor activities. Those interested in helping to plan this event should contact the Colonial District Activities and Civic Service Team Leader, Bill Stewart, at 703/642-8942 -H; 202/452-4163 -W; ke4bae@crosslink.net -H; or bstewart@bna.com -W.
Colonial District Fall 1999 Camporee

Friday, October 1-Sunday, October 3, 1999
Gunston Hall Plantation, Mason Neck, Virginia
Planning Coordinator: Jim Garamone; 703/360-5692 -H; 703/428-0610 -W; jagaram@hq.afis.osd.mil -W.
Scouting for Food Drive
Saturday, November 6, and
Saturday, November 13, 1999
District Coordinator: Pete Farnham;
703/836-2841-H;
301/530-7147 -W; pfarnham@capaccess.org -H; pfarnham@asbmb.faseb.org -W.
SCOUTING IS OUTING BUNCH - Craig Goheen
703-440-8226 or e-mail: goheen@juno.com
It's a new year 1999 and things have started off great. The first weekend of January was Goshen Staff Interviews. Our District had a couple of people apply. If you are going to Lenhok'sin - Rock Climbing - you'll find at least one friendly face. Also, I got an inquiry from North Carolina about Goshen. The ASM writing me said they found the place by accident, and they were really impressed. They were asking about space for their troop, and a staff position. Keep an eye out for the Tar Heels when you get to Goshen. You are going, Aren't you?
The District Camporee is the next District Outing event, in April. What are you planning for Spring? A hike? A Camporee? In our last article we talked about a Signal Knob hike and we asked for your ideas. Following is the list of ideas you submitted:
<NONE>
ADVANCEMENT - Jeff Schweiger
(W) 703-601-1437 e-mail: schweiger.jeffrey@hq.navy.mil
(H) 703-461-9632 e-mail:
jschweig@ix.netcom.com

Eagle Board Contact Information:

The Chair of the Colonial District Eagle Board is John Tillery, who can be contacted at 971-8367 or jttillery@aol.com. Contact John to approval of Eagle Projects prior to undertaking the project and to have an Eagle Board member assigned to serve as a member of the Board of Review once all other Eagle requirements have been met
TRAINING - Dominick Caridi
703-360-9206 or e-mail: DSCaridi@aol.com
Things I would like to know:
Do you have any interest in a standalone May Junior Leader Workshop ?
Do you have Scouts planning to attend the Den Chief training scheduled for January 30? If so, how many?
Are you thinking of participating in either the Spring or Fall Wood Badge Courses. (If you're interested, please provide me name, street address, phone numbers and email addresses.)?
Can you help fill one of the vacancies on either the Scout and Cub training teams?
Cub Scout Basic Leader Training
Cub Scout Basic Leader Training is designed for all kinds of Cub adult leaders, including Cubmasters, Den Leaders, Webelos Den Leaders, Tiger Cub Group Coaches, Pack Committee members, and all of their assistants. It provides information and tips for keeping pack and den programs active, lively, and fun.

The next CSBLT course for Colonial District Cub Scout leaders will be hosted by the Old Dominion District Cub Scout Training Team on Saturday, March 6, 1999 at St. John"s UMC, 5312 Backlick Rd. Course will run from 8:30 to 3:00.

For more information about this day-long course and to sign up, contact Kevin O'Shea at 703/644-4852. Cost is $6.00.
Leave-No-Trace Train-the Trainer
Make plans to attend the Leave No Trace Train the Trainer course that is scheduled for March 20 - 21, 1999 at the Prince William Forest Park Education Center
NCAC Roundtable Staff Training
The course is January 23rd in Hughesville, MD at the American Legion Post on Rte. 231, just West of Rte. 5. POC is Bill Farmer at 301-870-5660 (H) or 301-903-6672 (W). Bill said there would be a nominal fee ($2-3) to cover coffee and snacks, and folks should bring a bag lunch so we can keep working. Arrive by 8AM, and hopefully be done by 2-3 PM.
----Continued on page 7---
The Northern Virginia Districts
National Capital Area Council, Boy Scouts of America
VENTURE LEADER TRAINING

WHO:
Scoutmasters, Assistant Scoutmasters, Troop Committee Members and interested Adult Leaders.

WHAT: A training course for adult leaders interested in Venture programs for older scouts. This course also provides training for adults who will serve as advisors for extended high adventure treks. Now in its eighth year, Venture Leader Training continues to offer leaders an understanding of the Venture program and the needs of the older scouts. Two evening and one weekend sessions provide extensive "hands-on" training in low impact outdoor skills including terrain appreciation, personal and crew gear, wilderness first aid, stoves and one pot meals, initiative games, and trail courtesy. Participants should have completed Scoutmastership Fundamentals, however this is not mandatory requirement.

WHEN:

Session #1 - Thursday, April 8, 1999, 7:30 - 9:00 p.m. Prince of Peace Lutheran Church, 8304 Old Keene Mill Road, Springfield, VA.

Session #2 - Thursday, April 15, 1999, 7:30 - 9:00 p.m. Prince of Peace Lutheran Church, 8304 Old Keene Mill Road, Springfield, VA.

Session #3 - Saturday & Sunday, April 24 - 25, 1999, Camp Big Mac, Markham, VA.

COST:

Course cost including handout materials and meals will be $22.00, due at first session.

Contact: Philip Sternberg, email, psternbe@osf1.gmu.edu, phone, 703-960-0205

Cooper Wright, email, coopwright@aol.com, phone, 703-971-0044

-----------------------------------------

Pre-Registration Form

Venture Leader Training, April 1999

Mail Form to: VLT, c/o Philip Sternberg, P.O. Box 4052, Alexandria, VA, 22303.

Registration Deadline: March 15, 1999 (mail early as space is limited to 32 applicants)

Name: __________________________________________________________________

Unit/District: _________________________ E-mail:_____________________________

Address: ________________________________________________________________

City: __________________________________ State: __________ Zip ______________

Phone: (H)___________________________ (W) ________________________________

Comments (past high adventure experience, future high adventure plans):



February 12-14, 1999
Winter 1999 Tri-Chapter Fellowship Pre-Registration Form
(Colonial Chapter, Old Dominion Chapter, & Patriot Chapter)

Name ___________________________________  Date of Birth __________ Phone____________ 

Address ______________________________________City ______________ State ___ Zip _______

Troop/Post # ________ (or District Scouter position)  Chapter ___________________________

Parental Authorization for Scouts under 18 years of age:

I, ____________________________, Parent/Guardian of  scout__________________________, 
a minor, authorize in advance, whatever medical treatment may be necessary in the judgement of an 
attending physician due to illness or accident.  I understand that every reasonable effort will be made
 to contact me.

Date _________   Signature of Parent/Guardian____________________________

Medical Information:

a. Physical Limitations  ________________________________

b. Medications (name, dosage, frequency) _________________________________________________________

c. Special dietary needs ________________________________________________________________________

d. Medical Insurance 

   Company________________________________________________

   Policy No. ____________________________________________

Emergency Contact:

Name              ______________________________ Relationship      ______________________________
Phone             ______________________________ Alternate Phone   ______________________________
Address           ______________________________

Transportation: I can provide a ride for ______ others.                   I need a ride (YES/NO)______.

Registration Fees: Make checks out to "NCAC-BSA."  Payable on arrival.

___$20 per person (includes Food, Lodging, Insurance).
___$30 Fellowship Fee plus Brotherhood Sash
___$20 Saturday Dinner and Brotherhood Sash
___$10 Saturday Dinner Only

Trading Post Items will be available during the Fellowship Weekend.

Mail completed form to:Winter 1999 Tri-Chapter Fellowship (By January 29, 1998)c/o Mr. Philip Sternberg
P.O. Box 4052 Alexandria, VA 22303

Date ________________ Signature __________________________
 
---Continued from Page 4---
Scoutmastership Fundamentals Training
WHAT The Basic Training for ALL Scouters and interested parents.
WHEN March 11, March 13, and March 26-27, 1999
WHERE Aldersgate United Methodist Church for first two sessions. Ft. Belvoir Scout Area for last weekend session
WHY Trained leadership is essential for a strong Boy Scouting Program
These three training sessions - one evening, one Saturday daytime, and a Friday evening - Saturday campout session - will provide a basic grounding in the goals and methods of Scouting, how Scouting is
organized, and how a Troop and Patrol operates. SMF will help your Troop adult leadership provide a better program to you Scouts. You will meet all the key Colonial District leadership and learn what resources are available to help you be a better Scouter. Highly Recommended for all parents and cub leaders who are bridging over with their Webelos Cub Scouts this year.
DON'T MISS THIS OPPORTUNITY! SMF will not be taught again until next fall. Please register by February 25 by contacting Norm Johnson at 360-6730 or EMail Johnsall6@aol.com - We can't accept walk-on registrations. For additional information or if interested in participating on the SMF Staff - contact Bill Wells at 360-5404 or Email rbwells@erols.com.
Wood

Badge


Wood Badge is advanced training offered by the National Capital Area Council for Scout leaders who have completed Scoutmastership Fundamentals. Wood Badge places participants in a simulated troop environment, with individuals working with colleagues in patrols to develop and apply key leadership skills that are useful both in and out of Scouting.

Wood Badge will be offered twice during 1999:

Spring

: April 17-18; April 30-May 2, May 14-16

Fall

: September 11-12; September 24-26; October 15-17

For more information and registration forms, contact Colonial District Training Team Leader Dominick Caridi at 703/360-9206 -H; 202/268-6488 -W; DSCaridi@aol.com -H; dcaridi@email.usps.gov -W.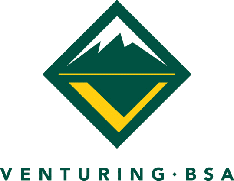 VENTURE VIGNETTES
Venture Leader Training
Are you looking to start a Venture patrol in your troop? Have your Venture activities been less than adventurous? Or perhaps you are going on an extended high adventure trek this summer and you are looking for training that stresses low impact, Leave No Trace camping skills. Then the Venture Leader Training Course is for you. This course has been designed to provide you with the tools that you will need to work with your older scouts to plan a challenging and safe outdoor program. Course dates are April 8, April 15 and April 24 - 25, 1999. Registration forms will be available at Roundtables. For more information, call Phil Sternberg, Course Director, (703) 960-0205.
Wilderness First Aid
Going on a high adventure trek this summer and want to brush up your first aid skills? Christopher Tate, Director of the Wilderness Safety Council recently announced the schedule for this spring and summer's Wilderness First Aid Courses. These sixteen-hour courses include classroom study, hands-on practice, and result in a two-year certification. All courses will be taught in the Northern Virginia area. The dates for the courses are:
February 6-7 March 13-14 April 17-18 May 22-23 June 12-13 July 17-18
Cost of the course is $125. A $50 deposit is required. Registration is on a first-come, first-served basis. To register, print out and complete the form at: http://wfa.net and return with a check made payable to Wilderness First Aid, to Christopher Tate, 214 East Duncan Avenue, Alexandria, VA 22301. Include your name, address, day and evening phone. Please note your class date on the check. For additional information, please call Chris at 703-836-8905.
REI Seminars
REI - Baileys Crossroads continues to feature outstanding seminars. On January 23, there will be a demonstration of TOPO! Interactive Maps on CD-ROM from 11:00 AM to 3:00 PM. The new software allows you select USGS maps of the areas you want to travel and plot your course ahead of time. On February 3, at 7:30 PM, there will be a backpack cooing and nutrition demonstration of new recipes that are lightweight, simple to cook and taste like home cooking.
Outdoor Leadership
One of the reasons I enjoy attending Venture Leader Training and the REI Seminars (a blatant advertisement if I ever heard of one!) is that I always learn something new. I recently read "Outdoor Leadership" by John Graham. It is an excellent resource that belongs on the shelf of everyone who serves as a leader in the Scouting movement. The book covers all aspects of leadership including forming a personal style, finding courage, making decisions, communicating effectively, building teams, coping with stress, and inspiring others to be at their best. Isn't that what we are all about? I highly recommend it for you and for the young men and women who are leaders in your troops, teams, and crews.
A Race With Old Age
from Gold Nuggets
A race with Old Age - long and hard with detours and distractions. But a Navajo tells her children to run towards the dawn every morning - to choose the most difficult trail because only the path that is long develops into a life worth running. A strong life. And if these young people should run well, then all good things in mind and spirit will become theirs.
Cooper Wright
Northern Virginia Venture Scout Coordinator
Colonial District Venturing Coordinator
(703) 971-0044 (home)
(703) 358-2802 (work)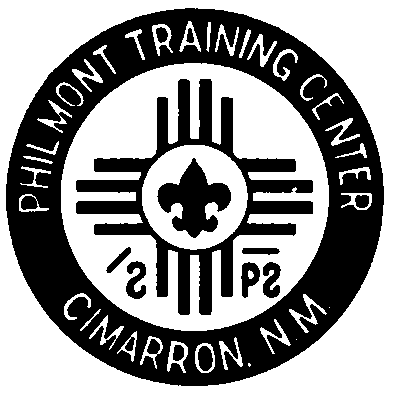 Philmont Training Center (PTC)
The Boy Scout Division, and the Venturing Division are offering a week of Fall conferences at the Philmont Training Center in 1999. The conferences include:
Leave No Trace;
Council High Adventure Trek Planning;
Advanced Camping Skills;
COPE Director Training;
Boy Scout Membership Growth;
Essentials of Climbing and Rappelling; and
High Adventure Skills for Venturing Advisors.
Most of these conferences will spend a significant amount of time in the backcountry. A full spouses program will be offered by the Training Center for those who wish to bring a spouse. The dates are September 19-25 and the fees are $250 for conferences and $200 for spouses. If you are interested in attending, let your District Executive and NCAC know. PTC is also offering two summer courses that might be of interest to leaders working with older scouts; Venturing, June 6-12; and The Venture Patrol and Varsity Team, June 13-19.
Helen Garamone
Vice Chairman, Administration
Colonial District, NCAC, BSA
9009 Stratford Lane
Alexandria, VA 22308-2743