COLONIAL DISTRICT CRIER
Volume 1, Issue #6 ONLINE EDITION DECEMBER 1998




COLONIAL DISTRICT LEADERSHIP

District Executive:
Paul Kosmicki (H) 703-370-2537


kosmicki@juno.com (W) 301-214-9122

District Commissioner:
Mike Porter (H) 703-425-8489
porter@iname.com (W) 703-751-3700

District Chairman:
Pete Straub (H) 703-370-5661
(W) 703-820-3600
(Fax) 703-820-8602

Deputy District Chair:
Tom Baerwald
baerwald-va@msn.com (H) 703-765-3128
tbaerwal@nsf.gov (W1) 703-306-1502
baerwaldt@oit.si.edu (W2) 202-633-9866


Vice Chair (Administration):
Helen Garamone (H) 703-360-5692
(W) 703-325-9762

Vice Chair (Finance)
Pat Tokarz (W) 703-379-8879

Vice Chair (Membership):
Jim Poole (H) 703-799-7046
Jim_Poole@nps.gov (W) 202-565-1174

Vice Chair (Program):
Mike Crane (H) 703-660-6148
Cranem@af.pentagon.mil (W) 703-695-2251

__________________________________________

SERVING YOU ELECTRONICALLY!

Colonial District now has a home on the Internet's World Wide Web. Each month we will post this newsletter to the web. Our web pages are at:

http://members.tripod.com/colonialdistrict/

We are have an e-mail list to distribute information faster. If you would like to be on the e-mail list, please send an e-mail to

list-requests@dynapolis.com without a subject line and only the words

"subscribe CDnetScouts Your Name"

in the body of the message (do not include the quotes). We will not add anyone to the e-mail list without their request.

ABOUT THIS NEWSLETTER

The Colonial District Crier is published monthly. Contributions must be submitted no later than 9 p.m. on the Friday preceding monthly roundtables to our editor, Mike Bowman. You may submit your articles in Word, Rich Text Format, or Text on floppy disk or via e-mail to

mfbowman@usscouts.org or you may deliver paper copies to 5832 Valley View Drive (Franconia).

MARK YOUR CALENDAR!

Click here to consult our online calendar for dates and events.
NOTES FROM THE COMMISSIONER MEETING

The next Commissioner Meeting will be on Thursday, December 10 at 7:30 p.m. at First Christian Church of Alexandria,

2723 King St., northwest of the Masonic Memorial. If you are unable to attend the meeting, let your ADC know. Questions? Call Mike Porter (H) 425-8489 (W) 751-3700 or e-mail porter@iname.com or Sue Crane at 660-6148 or e-mail ACC77@aol.com.

COMMISSIONER SERVICE

Being "There."

What is a Unit Commissioner? Who is my unit commissioner? No clue? Let's change that.

The first time I went to a Scout meeting that was not at my son's Cub Scout Pack, somebody asked for the name of my unit commissioner. I had no idea. I went for years without knowing my unit commissioner. Unfortunately, our Pack was missing the greatest inexpensive opportunity for help. Inexpensive, ... gee whiz, (old Iowan) ... Unit Commissioners are FREE!!!

Your Unit Commissioner is your Unit Helper, your lifeline, your connection to a huge community of helpers. Your Unit Commissioner is, above all else, "there" to help you succeed.

What does "there" mean?

Unit Commissioners come for a visit at least once a month to see what you need. They have answers to your questions or (more often) get back to you quickly with answers to your questions. Unit Commissioners help you through the maze of Scouting administrivia. They can help make sense of forms and other paperwork. They can help with guidance, they can help with suggestions, but most often they can help by showing you the path to answers so that the unit committee can decide the best course to take.

If you aren't looking forward to seeing your unit commissioner, or if you never see him or her then something is wrong. The something that is wrong is quite likely my responsibility. The most likely problem is that we have not found a Unit Commissioner to replace the one that last helped you. We're working on it.

In the next column is a list of Assistant District Commissioners and the Units for which they give assistance. Give your Assistant District Commissioner, Sue Crane, or me a call if you haven't found the help you need.

This month your Unit Commissioner will help to make sure that your Unit Inventory is up to date. We are looking for Scouts that might have fallen through the cracks in the registration process. Giving proper recognition to Scouts and making sure that they can take full advantage of the Scouting program depends on making sure that they are properly registered.

Hopefully we can be of assistance.

Area 1: Linda Hill 370-6641

Packs: 129, 133, 602, 609, 614, 615, 801, 1515

Troops: 62 113 120 129 131 135 609 1515 2000

Area 2: Jim Owens 317-7970

Packs: 867, 1076, 1520, 1943

Troops: 1076, 1107, 1150, 1507

Area 3: Ray Hahn 360-6960

Packs: 658, 680, 888, 1435, 1504, 1509, 1852

Troops: 654, 680, 811, 996, 1509, 1901

Area 4: Linda Guidotti 360-1171

Packs: 977, 1503, 1519, 1900

Troops: 118, 871, 876, 899, 993, 1519

Area 5: Gary Lindner 971-3087

Packs: 601, 1102, 1103

Troops/Venturing: 601, 1102, 1103, V 1103, V1183

Deputy District Commissioner: Sue Crane 660-6148

District Commissioner: Mike Porter 425-8489

THE DISTRICT COMMITTEE AT WORK FOR YOU
PROGRAM NOTES - Mike Crane
703-660-6148 or e-mail:
Mike.Crane@pentagon.af.mil
ACTIVITIES AND CIVIC SERVICE - Bill Stewart
703-642-8942 or e-mail ke4bae@crosslink.net
Merit Badge Jamboree: Plans are being firmed up for the District's first Merit Badge Jamboree. It will be held at Hayfield High School on Saturday, 09 January 1999 from 0830 until 4:00 p.m.
We are relying on you the Scoutmaster to help us in the registration process for this Jamboree. This way you will know who is going and what Merit Badges your scouts want to take and can give counseling beforehand if needed. Attached is a copy of the registration form. We need you to make copies for your Troop and give them out. We are next asking for you to collect the Registration forms and Registration Fee of $10.00 from each scout. Checks should be made out to NCAC. Then, bring them to the December Round Table and give them to Lucy Mitchell. If you cannot make the Round Table, then please mail them to Lucy Mitchell, 8311 Graceway Drive, Lorton, VA 22079 by 9 December 98.
Included in the $10.00 fee will be lunch and a Jamboree Patch which is the center section of a three patch display.
Some of these badges can be earned at the Jamboree but some need extra work (Pre-requisites such as diagrams, write ups, building something, visiting somewhere etc.). Some courses will require extra $$$ for kits etc. Also, some badges will require some outside work to finish the badge such as cycling and skiing. We will send the bill for the extra fees with the confirmation of registration. We hope to get this out by the last week in December.
Please have the Scouts look at the list and pick out at least three to four choices. If his first choice is radio which is 6 hours is full, then we can schedule his second choice and third/fourth choice. We are limiting the number of merit badges that can be taken during the Jamboree to two (2).
We are planning on having a Merit Badge Midway where we hope to have some other unusual Merit Badge counselors set up with some examples of what their Badges are about. No instruction will take place here, only looking. We need volunteers for this.
Class "A" uniforms will be worn for the Jamboree. This would be a good time for the Scouts to show off their Merit Badge Sash, also.
Brief Schedule for the day
7:30 - 9:30......Set up time

8:30 - 9:00......Sign in

9:00 - 9:30......Opening Remarks and Expectations

9:30 - 4:00......Merit Badges

11:30 - 1:30....Lunch

4:00 - 5:00......Merit Badge Wrap Up
(No closing planned)
If any Troop has Scouts or parents that would like to help, we can use them. They will get a free lunch. Scouts could earn service hours for helping.
We have an impressive list of merit badges that we are planning on offering if there is sufficient interest.
American Heritage

Archeology

Chemistry

Cinematography

Citizenship in Com.

Citizenship in Nat.

Citizenship in World

Collections

Crime Prevention

Cycling

Electricity

Electronics

Engineering

Finger Printing

Fire Safety

Genealogy

Indian Lore

Law

Medicine

Metalwork

Model Design & Bldg.

Music

Photography

Public Speaking

Radio

Railroading

Skiing

Space Exploration

Stamp Collecting

Surveying

Textile

Traffic Safety

Truck Transportation

Vet Medicine

Weather
If there are still some Merit Badge Counselors or anyone else out there (Scout, parent, grandparent) who would like to help out with any of these Merit Badges or with the Jamboree in general, we will welcome you with very open arms. Thank you
Lucy Mitchell 703-550-7602
lmmitchl@erols.com
Dave Stewart 703-461-7233
dstew76798@aol.com
Scouting for Food - Colonial District Units Collect 15.5 Tons of Food!
The Colonial District's inaugural service project, Scouting for Food, was a smashing success, with district units collecting over 31,000 pounds of food on Saturday, November 14. That's more than 15.5 tons, and we're still collecting information! I'm not sure how this stacks up against our efforts in previous years. However, the total is in and of itself a solid contribution to feeding Northern Virginia's needy in the coming year, and will serve as a baseline against which to measure our efforts next year.
Regardless, your Scouting For Food Team is very pleased and proud of the effort so many units put in to making the 1998 S4F campaign so successful. Virtually every large unit in the district participated, and many of the smaller ones. It's this sort of participation in community service for which the Boy Scouts are famous, and it is very gratifying to see this
tradition continuing in our new district.
Throughout the entire Colonial District, it looks like we collected the following poundage:
Carpenter's Shelter: 380 pounds
ALIVE: 4,920 pounds
UCM/PennDaw: 13,554 pounds
Koinonia: 7,815 pounds
LCAC: 2,250 pounds
ACS Food Locker: 2,000 pounds
Groveton Bapt. Church: 257 pounds
Rising Hope Methodist: 100 Pounds
TOTAL: 31,276 pounds (15.5 tons)
If any of you turned in food at a location other than the ones mentioned
above, please let me know for our records.
Several units deserve special mention, having collected at leat one ton of
food for the drive:
Pack 1520 turned in 3,380 pounds
Pack 614 turned in 2,715 pounds
Pack 1504 turned in 2,530 pounds
Pack/Troop 118: 2,000 pounds (turned in to the Army Community Services
Food Locker at Ft. Belvoir)
Perhaps the S4F coordinators for these units could share with the rest of us a few secrets to their success. No doubt, it involved a lot of planning, hard work and organization--success like this doesn't happen by accident!
Our efforts were most appreciated by the food banks which received our collected food. Dottie Schultz, executive director of Koinonia Foundation, sent the following letter (continued next page):
"Please accept the sincere gratitude of everyone at the Koinonia Foundation for the outstanding job the Scouts did on Saturday, November 14th.

"Our shelves are full and we now know we can continue to feed the needy for another year.

"The Scouts and their leaders are to be commended and we hope you will pass on to them our admiration and respect.

"Our organization is one of many who benefited from the hard work of so many in the Scouting family, and it is no small exaggeration to say the Scouts are feeding thousands of people for the next year.

"God bless all of you, and I assume we will meet again the second Saturday in November 1999."
We also received a very nice letter from United Community Ministries, which runs the food bank at the PennDaw fire station. They received a ton more
food this year than last!
A number of scouts and scouters should be recognized for their contributions to making this year's S4F drive a success. First, special thanks go to OA Chapter Chief Phil Caridi, and Arrowmen Josh Jarvis, Joe Caridi, and Rob Marineau, who staffed the ALIVE dropoff point on very short notice. They also helped out with moving some of the food collected at ALIVE to both Carpenter's Shelter and LCAC, which were both a bit short on contributions. Tenderfoot Scout Andrew Caridi, of Troop 1509, also helped out at ALIVE; his scoutlike attitude and cheerful willingness to help was most appreciated.
Venture Crew 1519 staffed the PennDaw dropoff point all day (for which we are grateful), and Venture Crew 80 spent the day helping out with radio communications, a valuable contribution to our total effort. I also should mention scouters Bill Stewart and Demi Pulas, as well as Linda Hill, Dominick Caridi, and Cooper Wright, who all contributed significant amounts of their time and effort to making this year's food drive a success. Their examples as scouters continue to inspire.
Plans are already underway for next year's S4F campaign, which we hope will be even better. We could use some help on the team next year, too! Any of you scouters planning on taking Wood Badge in 1999? Helping out with S4F at the district level would make an excellent ticket item! Are there arrowmen out there who want to give something back in cheerful service? Helping out with S4F will do it! This project is an excellent way to increase the visibility of scouting in Northern Virginia, and you can help be a part of it. Please call me at 703/836-2841 (evenings) if you'd like to get involved next year.
Yours in Scouting,
Pete Farnham
1998 S4F Coordinator (and 1999 Coordinator, too!)
Pinewood Derby-Tony Moller will direct Colonial District's first Pinewood Derby, to be held at Landmark Mall on March 13, 1999.
Spring Camporee- The camporee is scheduled for 9 - 11 April 99 at Williams Ball Field, Prince William Forrest Park. Jim Poole and Dominick Caridi are doing preliminary work on a Leave-No-Trace theme.
SCOUTING IS OUTING BUNCH - Craig Goheen
703-440-8226 or e-mail: goheen@juno.com
This is a slow month and occupied with holidays and family gatherings. There aren't too many scouting events - which is good. So I'm going to take this time to wish all of you happy holidays, from all the Scouting Is Outing Bunch.
But, since it is slow, maybe you are planning your next set of outings. For the next several months we will make a good effort to give you ideas on places you can go camping. We'll try to mix it up with some close in "camping" places and some more difficult "backpacking" places. Little Max, our high adventure dude will be providing some tips on places, and Craig Goheen II, our Goshen Guide, has a couple to throw in. So here we begin.
You can't get much closer than Fort Belvoir, Virginia, on route one, not far from Pohick Bay. Fort Belvoir's Scout camping area has a pavillion, an athletic field, porta-johns, trees, and a water source. Lots of trees, and associated vermin exist on the edge of Fort Belvoir. Open fires are allowed (but you have to walk the permit through to the Post Fire department.) Each Scout must have a parental consent and release form. The release forms, consents, and a group application must be submitted 3 weeks before the planned camping date.
DIRECTIONS: From Washington take I-95 south. Exit on Backlick going south and follow the signs. The campground is behind the PX/ commissary complex, north side of route 1, west of Woodlawn road.
Curious? Call (703) 805-3714 or write

ATTN: Boy Scout Coordinator

Training Division

Directorate of Plans, Training, and Mobilization

U.S. Army Fort Belvoir

Fort Belvoir, VA 22060-2125

Are you interested in a Klondike Derby? There is one up in Maryland, and usually it is cold, and usually it has snow. If you need info, call me (703) 440-8226.

Next month we'll talk about a circuit hike, maybe Corbin/Nicholson Hollow, or Signal Knob, or maybe Hazel Mountain. Got a preference? That's all for now.

ADVANCEMENT - Jeff Schweiger

Jeff Schweiger has agreed to be the Colonial District Advancement Chair. His home phone is (703) 461-9632, and his work phone is (703) 697-6865. Email is jschweig@ix.netcom.com. Please thank Jeff, when you see him, for stepping up.

Eagle Board Contact Information:

The Chair of the Colonial District Eagle Board is John Tillery, who can be contacted at 971-8367 or jttillery@aol.com. Boy Scouts looking to advance from Life to Eagle (and the troop leaders working with them) should contact John to have Eagle leadership/service project plans approved prior to undertaking the project and to have an Eagle Board member assigned to serve as a member of the Board of Review once all other Eagle requirements have been met.

TRAINING - Dominick Caridi

703-360-9206 or e-mail: dcaridi@email.usps.gov

We need folks with Cub Scouting experience to help build a Colonial District Cub Scout Leader Basic Training Course Team.

Souvenir video available:
The legend lives on! No, not the Titanic (this time). The Last Salute! G.W.'s final hurrah. Remember the moving slide program and video presentations, filled with memories depicting the history of the George Washington District, a now bygone era? Now those memories can be yours! Through the efforts of Mr. Don Palomaki, amateur videograper extrordinaire, a videocassette has been prepared which includes both programs. For ten dollars, you too can own this small piece of history. Mr. John Rephlo will be handling the sales. Call 451-9473 to order your copy today!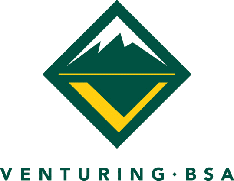 VENTURE VIGNETTES
9th Annual Venture Hike-o-ree
Five hundred and forty-five Boy Scouts, Varsity Scouts, Venturers and Girls Scouts to part in this year's 9th Annual Venture Hike-o-ree on the weekends of October 2-4 and November 6-8, 1998 at the Northern Virginia 4-H Educational Center at Front Royal, VA. This year the weather cooperated and crews were able to take hikes throughout the Shenandoah National Park. Many thanks to the staff who were on site for both weekends: Wally Feurtado, Dan Palenscar, Bill Schoonmaker, Vince Destephano, John Wells, Bill Wells, Bob Watts, John Leckner and James Stapleton; Joe Flaig and John Spencer for the exciting slide shows on Friday night; and Doug Cox and Dirck Praeger for helping train less experienced crews.
Wilderness First Aid
Going on a high adventure trek this summer and want to brush up your first aid skills? Christopher Tate, Director of the Wilderness Safety Council recently announced the schedule for this spring and summer's Wilderness First Aid Courses. These sixteen-hour courses include classroom study, hands-on practice, and result in a two-year certification. All courses will be taught in the Northern Virginia area. The dates for the courses are:
February 6-7 March 13-14 April 17-18 May 22-23 June 12-13 July 17-18
Cost of the course is $125. A $50 deposit is required. Registration is on a first-come, first-served basis. To register, print out and complete the form at: http://wfa.net and return with a check made payable to Wilderness First Aid, to Christopher Tate, 214 East Duncan Avenue, Alexandria, VA 22301. Include your name, address, day and evening phone. Please note your class date on the check. For additional information, please call Chris at 703-836-8905.
Philmont Training Center (PTC)
The Boy Scout Division, and the Venturing Division are offering a week of Fall conferences at the Philmont Training Center in 1999. The conferences include: Leave No Trace; Council High Adventure Trek Planning; Advanced Camping Skills; COPE Director Training; Boy Scout Membership Growth; Essentials of Climbing and Rappelling; and High Adventure Skills for Venturing Advisors. Most of these conferences will spend a significant amount of time in the backcountry. A full spouses program will be offered by the Training Center for those who wish to bring a spouse. The dates are September 19-25 and the fees are $250 for conferences and $200 for spouses. If you are interested in attending, let your District Executive and NCAC know. PTC is also offering two summer courses that might be of interest to leaders working with older scouts; Venturing, June 6-12; and The Venture Patrol and Varsity Team, June 13-19.
A Message for Youth
Let them remember that there is a meaning beyond absurdity. Let them be sure that every little deed counts, that every word has power, and that we can - every one - do our share to redeem the world in spite of all absurdities and all frustrations and all disappointments. And above all, remember that the meaning of life is to build a life as if it were a work of art.
- Rabbi Abraham Joshua Heschel (1907-1972), American Philosopher
Cooper Wright
Northern Virginia Venture Scout Coordinator
Colonial District Venturing Coordinator
(703) 971-0044 (home)
(703) 358-2802 (work)

THE DISTRICT COMMITTEE AT WORK FOR YOU
MEMBERSHIP NOTES - Jim Poole
703-799-7046 or e-mail:
jim_poole@nps.gov
Membership Growth July to November 1998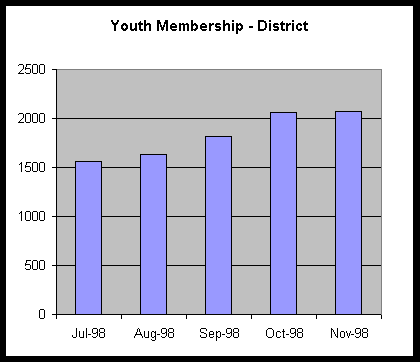 Join Scouting Night Results
On behalf of the District Chairman, I want to congratulate those Colonial District Scouters who made our 1998 Join Scouting Night results highly successful. During the period September 30 through November 30, 1998, Colonial District increased the number of paid youth (in the traditional program - Cubs, Scouts, Varsity & Venture) by 14%. At the end of September, 1817 youth were registered in the District. At the end of October, 2058 were registered and the number leveled off at the end of November at 2072. This is a significant accomplishment that would not have been achieved except for those Colonial District Scouters who participated at the unit level in registering new Cub Scouts. We continue to register new Scouts in hopes of making Scouting available to the maximum number of eligible youth in Colonial District.
Some packs achieved noteworthy increases in their membership:
Area 1
Pack 602, Alexandria Country Day School - 56%
Pack 614, James K. Polk School PTA - 36%
Pack 1515, St. Stephens & St. Agnes School - 25%
Area 3
Pack 888, Plymouth Haven Baptist Church - 30%
Pack 1504, Waynewood Elem. School PTA - 35%
Pack 1509, Saint Aidans Episcopal Church - 65%
Area 4
Pack 118, Fort Belvoir - 100%
Pack 871, Groveton Elem. School PTA - 88%
Pack 876, Wesley United Methodist Church - 25%
Pack 1076, Group of Citizens (Lane Elementary
School) - 36%
Pack 1503, Washington Mill PTA - 41%
Pack 1519, Hayfield Citizens Association - 44%
Question: How did these packs achieve these excellent results?
If you are in Area 1 or 2, ask
Doug Hess, Cubmaster, Pack 602;
Linda Hill, Cubmaster, and Rick Pullen of Pack 614;
Eugene Brindle, Cubmaster, and Rita Trenga of Pack 1515.
If you are in Area 3, ask
Peter Wuttke, Cubmaster, and John Fay of Pack 888;
Louis Haley, Cubmaster, and Nancy Owen of Pack 1504;
Steve Olechnowicz, Cubmaster, and Jane Sanchez of Pack 1509.
If you are in Area 4, ask
Frank Valente, Cubmaster, and Warren Wesley of Pack 876;
Richard Kennedy, Cubmaster, and Mike Wilmer of Pack 1076;
Dick Floyd, Cubmaster and Susan Concannon of Pack 1503; or
Ed Fetterolf, Cubmaster of Pack 1519.
Here are some of their answers (and some tips for next year):
Strong Parent Networking
We got our flyers to the school in time
We reached out to a neighboring school that we knew had no Scouting program of its own
Our pack has a good reputation in our neighborhhood
We prepared extra flyers and left them with the school principal for those parents who could not attend Join Scouting Night
We had a table near the door at Back to School Night with uniformed adults who could answer questions and registration forms available
Speaking of next year...don't wait until September to recruit new Scouts. Take advantage of opportunities in your school and have the right forms on hand to register new Scouts. While you are at it, be sure that you have adult leader application forms available to sign up the adult partner when you register the new Scout. These forms are routinely available from any of us on the Membership Committee and always available at Roundtable. And finally, if you signed up just one---new---Scout...take pride in knowing that America is a little better off for what you did.

Jim Poole

Chair, Membership Committee

Scouting Doesn

=t Just Happen - People Like You Make It Happen
THE COOK POT
BREAD PUDDING
Here is a recipe from my Dutch Oven recipes for a small Dutch Oven (12-inch). You might double it if you want more.
3-4 slices white bread
4 Tbsp. sugar
3 ½ c. milk
4 eggs, separated
1 Tbsp. vanilla
pinch salt
½ block butter
raisins
Break up the bread and place in a 12-inch Dutch oven. Add a small amount of milk to soften the bread. In a bowl, beat the sugar and egg yolks. Add the rest of the milk and stir well.

Add the vanilla and salt and pour the mixture over the bread. Fold in the raisins. Cut the butter into chunks and fold in.

Cover and bake at 300° with only 2 coals on the bottom and 8 coals on the top for 40-50 minutes or until a knife inserted comes out clean.

In a bowl, make a meringue adding 2 level tablespoons sugar to each egg white. Spread over the top and replace the lid and bake at 350° until brown.

Jeff Babis

ASM Troop 211, Tucson, AZ

LOW-IMPACT

DUTCH OVEN COOKING

The key thing is to get your dutch oven fire off the ground a sufficient distance to avoid heating and damaging the underlying soil.

Carl Grabiel, Scoutmaster, Troop 233, Blue Elk District, Heart of America Council offers this solution:

For of our DO cooking, we use a "container" we made. We cut the bottom off of a small barrel (about 18" diameter), leaving about 3 inches of the side on. The barrel was the type with a clamp on lid, so we cut off the round lip from the top and welded it to the bottom to provide a smooth lip. We then welded 3 short (about 4 inch long) legs to get it off the ground. The legs give it enough air space to prevent any burning of the ground under it.

If you don't have a resident welder, you may want to buy a kit that does the same thing. An outfitter called ChuckWagon Supply

www.chuckwagonsupply.com sells what they call a "Dandi Stand" that stands 6" high and will hold a single dutch oven for $14-16. They offer two models. One has removable legs and the other has fixed legs.

District Award of Merit
The District Award of Merit is the only official BSA award that the Colonial District can award to its adult Scouters. While there are no specific requirements, the award recognizes outstanding service to youth within the District and is only presented for exceptional and dedicated service over a period of time.
If you know of someone who merits this award, you should submit his/her name, together with the information requested on the nomination form to the District Award of Merit Committee. Nominees will be evaluated on the following nine areas: evidence of Scout Spirit, positive impact on the district program, quality of service, level of responsibility, variety of service, training and tenure, support of District and Council policy, contributions to youth outside of Scouting, and receipt of the Key 6 Award (generally a Scouter will be expected to have received the Key 6 Award prior to receiving the Award of Merit). Nomination forms can be obtained at Roundtables or by calling Cooper Wright, 971-0044 (home) or 358-2802 (work). All nominations should be mailed to Cooper Wright, 7720 Hayfield Road, Alexandria, VA 22315 and must be postmarked no later than January 31, 1999.
SCOUT LEADER'S MINUTE
Bad Temper
There was a little boy with a bad temper. His father gave him a bag of nails and told him that every time he lost his temper, to hammer a nail in the back fence.
The first day the boy had driven 37 nails into the fence. Then it gradually dwindled down. He discovered it was easier to hold his temper than to drive those nails into the fence. Finally the day came when the boy didn't lose his temper at all.
He told his father about it and the father suggested that the boy now pull out one nail for each day that he was able to hold his temper.
The days passed and the young boy was finally able to tell his father that all the nails were gone.
The father took his son by the hand and led him to the fence. He said, "You have done well, my son, but look at the holes in the fence. The fence will never be the same. When you say things in anger, they leave a scar just like this one.
You can put a knife in a man and draw it out. It won't matter how many times you say I'm sorry, the wound is still there. A verbal wound is as bad as a physical one.
AN EAGLE SCOUT'S PERSPECTIVE
The essay which follows was recently written by Greg Myrick, a 17 year old high school senior, to fulfill an assignment in an English class. Greg is an Eagle Scout with five palms from Georgetown, Texas. He has recorded 203 days/nights of camping and participated in 41 troop service projects totaling 208 hours.
An Eagle's View by Greg Myrick
A significant achievement that has had a major positive influence on my life would have to be my joining the Boy Scouts of America. I joined the Boy Scouts in the summer of 1992 never expecting to get out of it what I have. My years since then have been enriched greatly beyond what I could ever imagine. Through this organization, not only have I learned basic camping skills and how to tie different knots, but I have learned invaluable information that could possibly save a man's life. I have learned to cope with problems of my own and those of others. I have defined my boundaries of physical and mental tolerances, and broken them. I have been on adventures many only dream about, and I have accomplished experiences many would dare not do. I have been mountain hiking on seventy-plus-mile treks in the Sangre De Christo Mountains of Philmont, New Mexico, snorkled in the clear waters of the Keys of the
Bahamas, white-water rafted through Class 5 rapids in the canyons of Colorado, climbed impossible rock faces with the assistance of D-rings, belays and Swiss-seats, and have explored caves, on my stomach, when the roof was tight against my back, in Virginia.
Joining the Boy Scouts of America was an epoch in my life that has definitely impacted me and is evident in most everything I do. The Boy Scouts literally took me as an obnoxious boy and made me into an honest
man. Through the system, I have learned loyalty, dignity and honor. I have acquired knowledge from individuals that I could not have received from anyone, or anywhere, else. Joining the Boy Scouts has influenced me in such a way that I cannot describe. Through scouting, I have learned, first-hand, information on battleships that was never mentioned in the textbooks. I have seen in person the Spirit of St. Louis that Linburg flew accross the Atlantic; I have been bunked on and learned about the USS Lexington, the "Blue Ghost" of World War II, and I have seen the fuselage of the mighty Enola Gay.
Scouting has also given me a lifetime of thrills, shills and spills. Many a time have I or someone I knew come close to severe bodily harm since my joining. What immediatly comes to mind is an event that found me dangling from a mud-slickened mountainside with a forty-five pound pack strapped to me, and a swollen, rushing river roaring beneath me. Another occasion I'm reminded of is when a rubber raft wrapped around a rock, during a white-water excursion, and sent it's crew downstream into the midst of the rapids. Though dangerous, I find these incidents have bettered me. Not only do I now have some of the best memories in my life, but because of them, I have learned valuable lessons on life.
The Boy Scouts is not only about priceless memories and experiences and learning material that would impact your life as a whole, it's about making lifelong friends. One possitive influence through scouting I gained is the life-long friends I have made. Together we have been through thick and thin and we share an affinity for our rambles.
The Boy Scouts program has influenced my life in such a way that I know whatever I choose to do, I will succeed. Scouts has given me an expansive view on life I feel that I can take on any challenge presented to me, quickly and efficiantly. I owe my manner, my personality, and myself to the Boy Scouts of America.
ABOUT THIS NEWSLETTER
The Colonial District Crier is published monthly. Contributions must be submitted no later than 9 p.m. on the Friday preceding monthly roundtables to our editor, Mike Bowman. You may submit your articles in Word, Rich Text Format, or Text on floppy disk or via e-mail to mfbowman@usscouts.org or you may deliver paper copies to 5832 Valley View Drive (Franconia).
Helen Garamone
Vice Chairman, Administration
Colonial District, NCAC, BSA
9009 Stratford Lane
Alexandria, VA 22308-2743