Colonial District
Fall 1998 Camporee
Junior Leader Training Workshop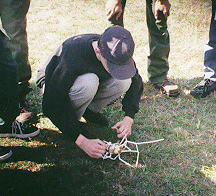 The eggs of all three patrols survived the tosses in the crates
created by the JLTW Scouts. Unfortunately, two patrols broke the shells
when Scouts tried to retrieve them from their customized carriers.
Post-activity self-evaluations stressed the need to make sure to work together
carefully during the entire project, even after the initial challenge has been met.